Class of 46
Bert Congdon
---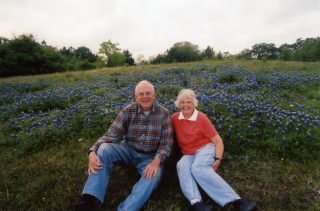 Bert and Marie in Blue Bonnet Flowers (State Flower)
---
When I left ZBTHS, with a desire to serve the Lord in Africa, there were those whose advice we took that caused me to very shortly be left with a wife and a child, and no way to make a living; and no way to get to Africa. After trying a number of things, I decided to become a house painter. It was a struggle to make a living while I was learning the trade. High school was hard for me. I was at war and losing. That made me miserable, so, high school was not
a happy time for me. I was 27 when I was admitted to Lake Forest College , but I soon realized I was not going to make it economically, so I switched to the evening school. I learned I could graduate in five years if I took a class every night, that is, four nights a week. I graduated in four years.
I thought college would open doors for me. It did not. I realized that college was just a door opener to go some place where I could learn something that would do me some good. I sort of knew that. My major was political science, and my intention was to go to law school. Marie was opposed to further school. My neighbor tried to tell me my kids came first. It really came home to me when I came home one day and picked up my two year old son and he cried. He didn't know me, and I thought, "My god what have I done?" Would I do it again? NO! I can never gain enough in this world to make it worth the damage my family suffered. I taught fifth and sixth grade in North Chicago , but I had to pick up some education courses, so I started a Masters program at Roosevelt U. Oh yes, it was night school again, but I was able to take the classes at an extension at the Naval Exam Center at Great Lakes . I taught in Waukegan , North Chicago , Zion , Lake Forest , Richmond Burton High School , but not in that order.
Our daughter was in Lake Forest College , and our son was a freshman in high school, and I thought one day that my salary was not going to support a child in college for the next eight years. So, One day I decided not to sign a contract for the next year, and we looked for a business. We cashed in my retirement, sold our house, and borrowed all we could to go into a chicken-carry-out in Lake Forest . We lived on the second floor and rented the building until we had the down payment to buy it. When we got the building paid for, I was good and tired of cooking chicken. I had been going to photography school, and I told Marie I wanted to open an advertising/commercial photo studio. Marie was worn out. She said, "Do I have to do anything?"
We were eighteen years in the chicken business and eighteen years in the photography business. Naturally I was still in night school. I went to Moody Bible College a few years, and then to CLC to study art a few years. I am now certified in Texas to teach Social Studies and Art grades 4 to 12. Well how did I get to Texas ? Actually it is quite logical. When Commercial photography went digital, I shut down the photography, and changed again to painting still life oils, watercolors, and portraits. And, I want to tell you, whatever you have heard about movers….it's all true. When we unpacked, we found many things missing, including all off my brushes, probably a thousand dollars worth.
So how did I get to Texas ? Well, I had a stroke (cerebral hemorrhage). I am left handed, and I was numb on my left side. I still have some numbness in my left hand and left foot. In rehab they taught me to walk again, but in occupational therapy they wanted to know how I made a living. I asked them, "What makes you think I need to make a living?"
I told them I had an art studio, and I fooled people by pretending to be an artist. Well, they liked that and asked if I would bring my stuff down there and draw. I was happy to do that, and for some time I brought paper and drawing utensils. They appointed various therapists to model for me, all in the name of therapy of course. I had a different model each day. Drawing is difficult for me, I can't even write, and I wondered if they hated my work, but in the end, they all wanted me to sign them. And that was kind of fun. Actually, therapy was fun except for Melissa. I called her Melissa the Merciless. Boy, what that girl had me do.
I haven't done a painting since the stroke, but I did get a sketch of Marie on a gessoed panel. It's ready for egg tempera. One day I will paint it, but not today. Well folks, when you have lost the ability to earn a living, what do you do? We certainly couldn't stay in Lake Forest , so we sold the building and looked for a cheap place to move to. Our son Jeff was and is a chaplain in a prison here, so we thought we would try it. We like it. From the weather reports we see this February, we are glad we are not in Chicago . It was seventy today, and we are glad we are not in Chicago . You want to hear that again? The people are friendly, but make no mistake, you don't join this society; you are born into it. It's hard to find work here. I guess old people have a hard time finding work anywhere.
I substitute teach in the prison system, and I do volunteer Bible teaching in one prison
| | |
| --- | --- |
| | |
| Our House | Painting by Bert |
---
---
This Page Created 28 February 2007