Zion Benton Township High School Class of 1946
Herbert C. Savage
---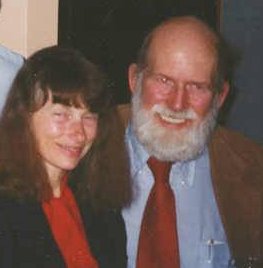 Herb and Marilee Savage
---
Biography of Herbert C. Savage
Born July 7, 1928 in Zion, Illinois, in a small house on Ezra Avenue to the late Elmwood and Esther Savage, where my grandfather, Sam Savage, when I was 3 years old, would come to take me for walks. At about 4 years old, we moved to a nice big house on the west side of Emmaus Ave, 2 doors from 21st Street. Growing up I attended the Zion parochial school. When in the third grade Bud Short and I were in the church choir in the old wooden tabernacle.
In 1944 I saw my chance to leave Zion when on my 16th birthday, after 2 years of school at Zion Benton Township H.S. I enlisted in the military. I went to the South Pacific aboard the U.S.A.H.S. Emily H.M. Weder, an Army Hospital Ship where I served as a steward, captain's boy and deckhand in that order. We picked up the wounded and dying men in the battle at Lingayan Gulf, Luzon. A Japanese bomber got within 6 miles of us before being shot down. I sometimes worked with a doctor on autopsies.
We did hospital work in the Philippines, Biak and New Guinea until the spring of 1945 when we were ordered back to the States. Following the war I went back to high school and graduated with 3 years of high school by attending night school in Waukegan and days at ZBTHS. After this I spent 2 years in the U.S. Marines and then attended college.
My first wife and I were married 18 years, and produced 2 very fine children. I completed my bachelor's degree in Public Administration. Studied and worked in engineering and became a licensed civil engineer. Re-married 4 years later to Marilee Anne Mattson in 1972, and soon after left the county of San Diego, where I worked as an Associate Civil Engineer (highway design) . Not long after this Marilee and I moved to Costa Rica for 3 years. Living was inexpensive in Costa Rica but we found that we were like ducks out of water so moved to El Paso, Texas.
In Costa Rica, in 1982, Marilee became a Born Again Christian. This almost split up our marriage, because of my own stubbornness. From El Paso we moved to Billings, Montana and after many prayers by my wife and others, on March 31, 1985, while listening to an audio tape, while Marilee was at church, the gospel message hit bone. It got through my thick head that I needed Jesus Christ, His shed blood, for my sins, and I became a blood washed sinner, saved by grace, and became an avid student of the Holy Bible.
We then attended a Bible seminary in Rosedale, Ohio, which turned out to be a Bible cemetery.
Abandoning Rosedale, where we mistakenly believed we could get a Bible education we returned to San Diego. In San Diego, I was arrested for handing out gospel tracts in a high school parking lot. An attempt was made by the San Diego police to plea bargain for a $25 fine. The hearings and trial took more than 8 months and resulted in a hung jury. Subsequently the charges were dismissed.
After three years in San Diego we moved 100 miles north to the mountain town of Anza, California. We have ice and snow in the winter at 4,150 feet altitude. When we moved here the area abounded with coyotes, wildcats and rattlesnakes. I fed wild horses and managed to capture 3 of them. I was able to break a young filly to the saddle and rode her a bit. I finally let her go when wild stallions bothered her all night.
When I was 70, my younger brother, Cliff, took us mountain climbing in the Sierras. Marilee and I made it to 10,000 feet but Cliff kept going to 14,000.
We still distribute gospel tracts, Spanish in Mexico and English on this side of the border. Our Free Bible Study is available on request.
---
| | |
| --- | --- |
| | Marco Rossi, badge 43, San Diego Unified School District armed Peace Officer during my interrogation for speech content of tract which he is holding up to shield his face from being photographed, at Kroc Mid-School in San Diego, on the public sidewalk. |
| | |
| --- | --- |
| "Free speech inspector" (sic) Marco Rossi, badge 43, is caught with view of his face during interrogation of complainant, Herbert C. Savage, during the public school and police interference with gospel tract distribution to students on San Diego public sidewalks. | |
| | |
| --- | --- |
| | Marco Rossie, badge 43, armed "peace officer" shown here calling his supervisor, Extension 307, to determine what "Public Policy" can be used against distribution of gospel tracts to students on public sidewalks. |
| | |
| --- | --- |
| Marco Rossi, badge 43, another view of the scene at Kroc Mid-School on March 13, 1997, during interrogation and interference by school officials, to suppress free speech exposing their homosexual agenda. (Holy Bible, Romans 1:18-32.) | |
| | |
| --- | --- |
| | Picture of one end of the corral, and a bird feeder by the corral, from the kitchen window of our trailer. c.1989 |
| | |
| --- | --- |
| Some shots of the rugged Sierras and yours truly. Very beautiful mountains! | |
| | |
| --- | --- |
| | A shot of Marilee, who weathered the steep rugged climb, perilous trails, the cold, cold nights and kept smiling! |
---
---
This page created 1 October 2000
---